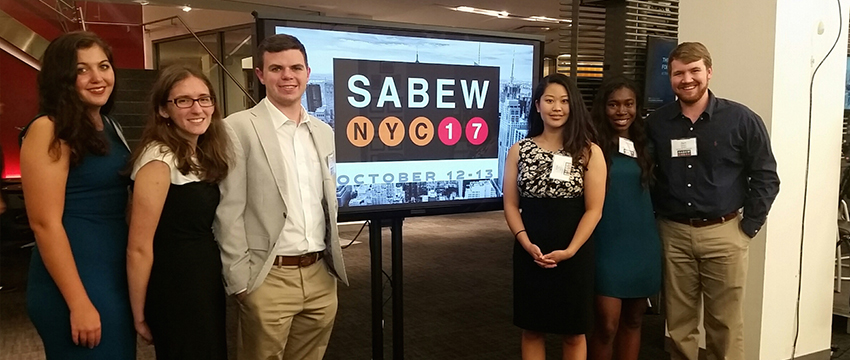 (l.to rt.) Reann Huber, Mollie Simon, Alex Soderstrom, Lisa Fu, Denver Ellison and Zachary Hansen are the 2017 Cox-SABEW Fellows. Photo: Keith Herndon
Six Grady College students were recognized in New York City during the fall conference of the Society of American Business Editors and Writers (SABEW) through a fellowship organized and sponsored by the college's Cox Institute for Journalism Innovation, Management and Leadership.
The students recognized as Cox-SABEW Fellows for 2017 were: Denver Ellison, Lisa Fu, Zachary Hansen, Reann Huber, Mollie Simon and Alex Soderstrom. The conference was held at the City University of New York on October 12 and 13.
This Cox-SABEW Fellowship was created to honor students who have taken the initiative to engage in business journalism through class assignments, student media and professional internships, explained Dr. Keith Herndon, director of the Cox Institute. This year's group marked the fifth year of the partnership with SABEW, which was created in 2013 and has included 20 students to date.
"I'm incredibly thankful for the opportunity being selected as a Cox-SABEW Fellow has given me," said Soderstrom. "After being introduced to business reporting during my summer internship at the Atlanta Business Chronicle, the SABEW conference has allowed me to delve even further into the world of business journalism."
Fu, who interned at Fortune magazine, called the Fellowship "a fantastic opportunity for me to network, learn and to explore the field of business journalism with my peers." Simon, who interned in business news at NPR, said the Fellowship extended her training in an important aspect of news. "Business journalism cuts across so many fields that I know it will touch any topic I have the opportunity to cover in the future," she said.
In addition to attending the conference, the Cox-SABEW Fellows met with working reporters and editors in the newsrooms of Fortune magazine, Bloomberg and the Wall Street Journal. They also networked with Grady alumni and supporters currently working in business news and other news media organizations.